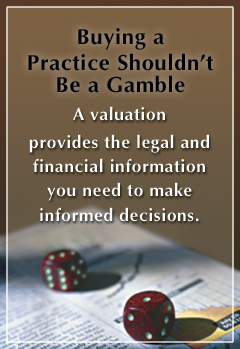 We were able to use your valuation of my client's practice to come to a quick and fair settlement in the case.

Circumference is a business valuation firm specializing in determining fair market value of professional practices and lower middle market businesses with annual sales between $50,000 and $15 million dollars.
Valuations Benefit Buyers and Sellers.
Professional business managers agree that whether buying or selling, the first step in a transaction this important is to get professional help. A Circumference valuation provides both the buyer and seller with unbiased information about the current worth of the business. A realistic market value and a written practice appraisal paints a picture of where the practice has been and where it is going.
For buyers, a valuation report helps determine:
If the cash flow will cover operational costs and provide a reasonable salary to the owner;

If there will be enough cash flow to pay off a business loan; and

Areas that can be improved to grow the business and increase revenues.
For sellers, a valuation report helps determine:
If the business is worth more – or less – than the financial statements indicate;

Clarification of value for all the assets included in the sale; and

A basis to support the asking price.
Knowing Market Value Is Beneficial in Other Scenarios Too.
A valuation is also essential for a partnership change, partnership leading to a buy-in, incorporation, re-financing, tax negotiations, financial and estate planning, probate or in a divorce settlement. A Circumference valuation provides the financial information you need to make informed decisions.
We Have Answers to Valuation Questions.
When it comes to valuations, Circumference has the answers you need, and at a price you can afford. A Circumference valuation is a document you can "take to the bank." For a free estimate, call (877) 988-0911 or contact us online now. GO